There has been enough enthusiasm for mobile game development and the tremendous fortune it promises. Despite all that is said about freaking heavy competition, there has not been a more suitable time to build a mobile game than 2023, whether you target the US market or the global market.
According to Statista, mobile game apps will have 182.0 million game users globally by 2027, and the game apps will have a 52.9% share of user penetration by the same year. So, a massive fortune is waiting for the game developers. The mobile game app development cost will continue to be a concerning factor for generating revenues and, more still, for many aspiring developers to try their luck in the game market.
For instance, if you are making a mobile game app for your business, the most common question that strikes your mind is how much does it cost to build a mobile game app? This guide will give you detailed insights into the factor that most impact calculating game development cost, overall game development estimation, and the most important way to reduce the gaming design cost.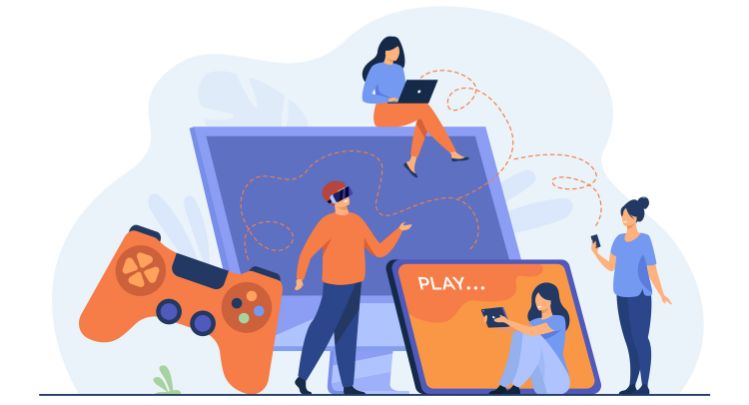 Game Development Project Cost in India
Savings on mobile app development costs in India can be significant. The average cost of developing a mobile game app in India varies from $12,000 to $70,000 or more. It is well-known that India, as the IT outsourcing hub, always provides the best bargain in terms of both mobile game development skills and costs. Besides serious enterprise apps and award-winning apps across every niche and category, India is now a global destination for hiring skilled and experienced game developers versed with the latest gaming trends and technologies.
| | | |
| --- | --- | --- |
| Mobile Game Type | E.G. | Game Cost |
| Mini Game | Flappy Bird, Pac-Man, etc. | 3000 to 5000$ |
| Simple 2D Game | Flappy Slendrina, Red Ball, etc. | 5000 to 14000$ |
| Social Game | Farm Ville, Facebook Games, etc. | 16000 to 22000$ |
| Mid-Level Game | Angrybirds, Candy Crush, etc. | 20,000 to 32,000$ |
| 3D Game | Join Clash 3D, Free 3D Shooting, etc. | 18,000 to 40,000$ |
| Large-End Game | Clash of Clans, Last Day on Earth, etc. | 50,000 to 100,000$ |
| AAA Game | PUBG, GTA, etc. | 100,000 to 10,00,000$ |
| Real Money Game | Ludo Empire, MPL, etc. | 20,000 to 40,000$ |
| Moderately Game | Doom & Destin | 40,000 to 90,000$ |
| Business Mobile Game | Virtonomics, Tropico 4, etc. | 15,000 to 80,000$ |
And, of course, the most competitive mobile app development cost is always a major motivating factor for choosing a mobile game development company in India. Here are some reasons to consider India for your budget-constrained game development project.
Top 5 Reasons to Hire Outsourced Game Developers from India
Indian game developers catering to a large pool of small-town businesses and startups are always versed in the tricks and maneuvers to save mobile game development costs in India without compromising quality.
India is a global outsourcing hub with a sprawling IT market spanning metro cities, economic zones, and hundreds of small cities.
India has one of the most outsourcing-friendly economies with a clear government emphasis and encouragement for IT outsourcing projects.
The country is known for its highly competitive pricing and rate for the most challenging and demanded skills.
India offers the world's largest pool of engineering and computer science talents who constantly add to the country's throbbing IT map daily.
Last but not least mobile game development companies are versed in incremental development approaches like Minimum Viable Product (MVP), which allows you to develop and reduce the cost of developing a mobile game app in India with cumulative updates of new features and value additions based upon player feedback. This allows building and releasing your game app quickly at a lesser budget.
Estimate Average Mobile Game Development Cost in USA
First, let us begin by estimating the cost of developing a mobile game in USA, and then we can discuss the rest. Generally, the typical cost range of mobile game app development varies between $20,000 to $3,00,000 depending on several different cost factors such as game type, development challenges, game design, tech stack, animation, testing, mobile game development tools, and several others.
Mobile game development cost in USA for three levels of game size and complexities goes like this:
App Complexity

Level of Complexity

Average Cost

Simple Complex Game

$ 16000 - $40,000

Medium Complex Game

$ 50,000 - $1,20,000

Hardcore Complex Game

Clash of Clans

NFL

PUBG Mobile

$ 1,50,000+

You must rely on more than these simple categories based on app size and complexity. Several other factors affect the costs of creating a game app, including the game technology, engine and tech stack, use of game graphics, special effects and animation, game interface design, developer location, and several others.
Let's try to go deeper into different game types and their estimated development costs.
Casual mini-Games

Simple and casual mini-games such as Ping Pong can be developed for $20,000. But by adding extra graphics and features, the cost of such an application for these can go up to $50,000.

Casual 2D Games

The small-budget mobile games involving 2D visuals and a basic game sound can cost between $50,000 to $100,000. But again, the mobile game development cost for these games can also go higher depending upon value additions.

Social Games

The games often played on social media platforms and allowed connecting players and inviting players through social channels are top-rated, and the cost of mobile game development for them goes between $100,000 to $250,000.

Multi-level Games

Many top game titles with enticing playing experiences come under this game app category. Such mobile game apps involving various game levels, game characters, graphics, and animations are top-rated, and they take a mobile game designing cost between 250,000 to $700,000.

Enterprise Game Apps

Today's enterprises are also using games for internal collaboration and gamified competition, and they need to build high-quality games involving top-notch graphics, storytelling, animation, good soundtrack, and superb mobile game design. These game apps involve big costs ranging from $250,000 to $550,000.

AAA+ Strategy Games

These games built simultaneously for consoles and mobile flagship devices have a lot of levels and top-notch immersive gaming experience and consequently involve the highest development budget ranging from $400,000 to $1,000,000.
The Most Popular Global Game Apps and Their Development Cost
As we have already explained earlier, the mobile game app development cost, even within a specific category or type, varies simply because of the typical game features, design, chosen tech stack, hired developer location, and similar factors. It can be expensive if you aren't meticulous about the budget and plan everything accordingly.
Below you will find examples of a few popular games along with their average price and time estimation per our own experience to give you a basic idea about the app development cost.
The rise can involve around $8,000 to $15,000 development costs among the hyper-casual game apps. Subway Surfer is one of the world's most popular casual game apps, and it may involve $45,000 to $100,000 in development costs.
The development cost of a game like Clash of Clans may vary between $70,000 to $500,000. The development cost of games like Free Fire or PubG may vary between $100,000 and 3 million. Most AAA games involve several million dollars in development costs.
Factors That Impact Your Mobile Game Development Cost in 2023
There are so many variable factors that the cost of every game app needs to be separately assessed and planned. Here below, we would like to explain some of these cost factors.
Hiring freelance developers can be much more inexpensive, but you must be more assured of their commitment to quality, deadline, and productivity. On the other hand, by hiring reputed development companies, you have better chances to deliver a winning game app that starts generating revenues quickly.
Choosing between 2D or 3D Gaming

Understandably, the mobile game development cost for a 2D game is relatively lower than for a 3D game. While 2D game development costs between $5,000- $20,000, The ideal cost of unity3d game development go between $50,000- $200,000.

Game Project Documentation and Planning

Also called pre-development costs, this involves the expenses required to create a game development document that mentions everything about the game project. Such documentation requiring at least 20-30 hours can cost around $5000 to $10,000. This cost varies as per the size and complexity of the game app project.

Game Development Engine

Several high-quality mobile game engines are free such as Unity and Unreal Engine. Naturally, when game apps use these engines, they do not significantly impact the cost of making a mobile game app. But the price can go up when you opt for game engines with higher licensing fees.

Single-Player vs. Multiplayer

Player games involve much higher development costs than single-player game apps as they need to incorporate many extra gaming options. These games involve rigorous interactions between players and the game app and hence involve much higher development complexity and costs.

Game Marketing Cost

Even if you consider the game app funny and exciting, it needs to compete with the competition, and there comes the role of mobile game marketing. Game marketing always takes a considerable portion of the total cost of game development. When you want to secure a profit, you need to consider every penny you spend to develop the game or reach out to the target audience.

In this respect, let us remember that a mobile game marketing budget is significant for the success of your game app, and even the top game publishers spend at least one-fourth of their budget on marketing. Naturally, any game app, however unique and capturing a game experience it offers, needs to spend on marketing.

Game Developer's Location

Let's now focus on one of the most significant cost factors accepted worldwide. Based on the location of the game development team, the game development cost can vary from $25 - $120 per hour. While in South East Asian acoustic tries like India and East Europe, you find the best hourly rates for hiring game developers, the same goes up several notches in North America and Western Europe.

Choosing Freelancers vs. Reputed Game Development Company

As of now, you have mostly opted for the low-cost factors for every consideration. But when choosing between freelancers and reputed game development companies, we always recommend going for the latter, as this can seriously influence the game's quality and performance.

Hiring freelance developers can be much more inexpensive, but you must be more assured of their commitment to quality, deadline, and productivity. On the other hand, by hiring reputed development companies, you have better chances to deliver a winning game app that starts generating revenues quickly.
How IndianAppDevelopers help you with Mobile Game Development Cost Estimation?
IndianAppDevelopers is the leading mobile game development company in India, with several award-winning game titles to its credit. The company has a global footprint with offices on three continents and clientele all over the globe and has played an instrumental role in shaping the success stories of leading game app developers.
The company offers the cost of developing an app in India and consultation services and allows you to assess your game app development cost precisely with a detailed development roadmap and requirement document.
At IndianAppDevelopers, experts help create detailed game development documents with project outlines, priority features, development timelines, and budget specifications. The company also helps plan an MVP release with the elementary components and future roadmap for incremental updates.
On A Final Note
Although we are here to discuss the mobile game development cost, the qualitative parameters should get the highest focus and exposure. The price is worth considering only when you have ensured uncompromising quality and gaming experience. On the other hand, quality and cost factors depend on how meticulously well you plan and document the entire project.
Our mobile Game application development cost in 2023 is on a very affordable budget. Just contact our experts to get a rough estimation for your game app.