The stupendous growth in mobile app and software development has created a vast overload of work for development companies from all over the globe. But corresponding to this growth, development projects often suffer from a severe shortage of resources, particularly human talents. This is exactly where the option to hire remote software developers India seems to be a viable option.
Offshore development allows companies to scale up their resources and capabilities and helps them fulfill the skill gap and get onboard programmers with sought-after skills and expertise. Offshore hiring also helps them to cut down the cost of establishing IT infrastructure and resource mobilization.
In many countries of the West where IT companies find the huge development cost a challenging factor for development projects, remote hiring from offshore development companies in other parts of the world seems to be a great option to take control of the cost factors without compromising with the quality.
For several years now, India has established itself as the globally preferred destination for hiring highly skilled app developers India at competitive pricing. This is why companies of all sizes and niches worldwide prefer to hire remote software developers from India. Having a robust IT industry with many global IT brands and a throbbing industry of IT startups, India boasts the best pool of software engineers with outstanding skills and exposure across all types of IT projects.
But before you hire remote software developers in India, here we explain the various hiring options followed by the key value propositions offered by Indian offshore hiring companies and the best practices for hiring software engineers from India.
Why Indian Developers As Your Remote Development Team?
Why is hiring remote developers from India so popular? Among all the countries sought after for outsourcing projects, India stands as the most competitive destination for many reasons. First, the country is rich in expert workforce resources with the largest pool of science, technology and engineering graduates in the world.
A company that hires remote software developers in India gets the edge of unique abilities to deliver top-notch quality despite budget constraints. The Indian market, dominated by mostly small business enterprises and startups, makes programmers trained and furnished with skills and expertise for delivering quality output despite budget constraints.
India has already emerged as the world's leading IT hub. The app development industry in India has already registered an 11.37% year-on-year growth record between 2013 to 2018. However, for the Indian, IT sector export of development services or offshore development remained to be the biggest contributor. No wonder hiring remote developers from India has been a popular option for many businesses around the world.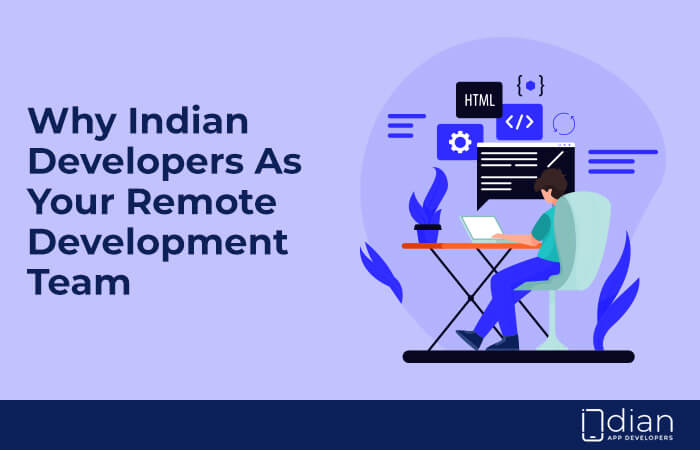 Companies with non-IT backgrounds prefer to hire remote software developers because of the development jobs and for long-term support and maintenance responsibilities. Today, Indian IT companies are extensively hired for support and maintenance jobs for software products built by other companies.
Let us now have a quick look at the key advantages that your business can get by hiring remote developers from India. But, first, let's understand these advantages one by one.
Highly Cost Competitive
It is common knowledge that outsourcing IT projects can help save huge sums of money for all software and app projects. On top of that, just by deciding to hire remote software developers from India, you can further augment this cost advantage. The competitive app development cost in India is one of the biggest factors for major global brands across niches to hire offshore developers from India.
As the industry statistics reveal, the hourly rate for mid-level software programmers in the United States varies between $132 and $140. In contrast, when you hire remote developers from India, the same rate for mid-level engineers boils down to $25-$30 per hour. This is a considerable cost saving that no business can undermine as a factor.
As a developing economy with a low-profile currency, India has an edge in cost over the rates quoted in the dollar or euro or other leading currencies. But, on the other hand, the market populated by startups and small businesses makes cost-competitiveness a severe criterion. This is why by hiring remote developers from India, you can easily avail the best quote for your app project.
Fast-Paced Development
Speed is a crucial consideration for building new software products. By launching an app earlier than your competitors, you can easily stay ahead of the competition. Increasing business competition has made it important to launch an app faster and target users early. But when you create an app by hiring an in-house team of developers, it consumes a huge amount of time.
On the other hand, hiring remote developers can help a company save a considerable amount of time. Most outsourcing development companies have established infrastructure and resources to deal with any challenging software project, and this saves the entire time required for talent acquisition and establishing infrastructure.
On top of that, poor quality hiring for in-house developers can force a project to go through several rounds of course correction resulting in more development time and more significant challenges. Businesses prefer to hire remote software developers in India because of the top-notch pool of programmers talents and the dedicated focus they give to every project.
A Time-zone Befitting to Global Projects
A frequently talked-of benefit of hiring software developers from India is also a favorable time zone. The US East Coast has nearly a time difference of 9.5 hours, and the same distinction for the West Coast is around 12.5 hours. This time gap can be utilized suitably to deliver round-the-clock development and post-development support.
The in-house team in many companies in the US gets off from their work only to leave the responsibilities to the remote developers in India to start their work. Thanks to this, a project gets the engagement of developers all around the day. In addition, hiring remote developers from Indian businesses can get a time gap to initiate collaboration or do necessary background work.
Exposure to a Great Talent Pool
The biggest reason to hire remote software developers from India is probably the great pool of talented developers offered by the Indian IT companies. No wonder, thanks to this talent pool, India is often regarded as the biggest global IT hub outside of the US.
India is the second-most populous country with a predominant youth population boasts of a large pool of educated youngsters. In addition, the country produces more than a million engineering graduates every year offers a staggeringly big pool of tech talents. This talent pool alone put India on top of the global IT landscape.
Time Tested Development Quality
Apart from the so-called cost advantages and the talent pool, professionalism and quality focus remained the two most driving factors for hiring remote software developers in India. Indian outsourcing companies, in terms of quality and productivity, have set several industry-acclaimed benchmarks and standards.
The quality focus and professional output have resulted simply because of the breath-choking competition in the Indian IT scene. From major development companies with a global footfall to new startups with the fresh potential to drive innovation, businesses have the most varied choice of developer talents at their disposal.
By hiring offshore remote developer teams in India, a business can easily follow established IT standards globally. The vast majority of reputed Indian IT companies have industry-acclaimed quality certifications such as Six Sigma Quality Certification, International Standards Organization (ISO 9000), Total Quality Management (TQM), Capability Maturity Model (CMM), Customer operations performance centre (COPC) and several others.
When you consider remote developers for hire, India invariably appears to be the top choice simply because of its competitive market. Every player is trying to outshine the other in terms of quality and user satisfaction.
Favorable Federal Policies
Another major boost comes from the government of India for hiring remote software developers from India. The federal government policies here in India make it easy for an increasing number of businesses to partner with Indian development companies or opt for software development services offered by India.
Almost all India's regulations and regulatory frameworks are highly encouraging for the international IT development projects to collaborate with Indian developers.
The Dominance of the English Language
When you consider remote developers for hire, proficiency in the English language is a key consideration. India holds second place among all the countries with the most English-speaking people. English is already the principal mode of communication and study in all higher education facilities across India and schools and institutions in urban India.
This dominance gives India a clear edge over other non-English speaking countries regarding easy communication, which is important in any remote IT project. However, the millions of IT graduates and engineering pass-outs are already proficient in English, so the communication gap will likely make an app project suffer.
Great Scalability
Just because India boasts of an expansive pool of developer talents across diverse skills, any app project enjoys the scope of scaling up an app project by simply adding new team members. By hiring offshore developers from India, a business can only utilize this flexibility of extending the team capacity.
If you need to hire dedicated software development teams, India offers an inexhaustible range of options across different programming skills and areas of expertise. Simply because of this easy availability of talents, scaling up the development team becomes easier for any app project.
Unparalleled Technical Expertise and Skillset
Another great advantage of hiring remote developers from India is the extensive development skills and programming expertise available with Indian developers. Having a robust IT industry extending its presence across all development projects, India boasts developers with any specific development and programming skill.
Indian developers also have the reputation of getting updated with the latest development skills, programming trends and new demands of expertise that take the industry by storm from time to time. From multicloud to AI and ML technologies to Blockchain to AR/VR development, you have specialized development companies for all types of app projects.
Real-Life Problem-Solving Skills
Indian economy is developing, and Indian society, being a highly heterogeneous one, always showcases unique problems and issues in everyday life and business environments. Therefore, Indian developers often orient their development skills with these real-life problems and deliver unique app products unthinkable in other parts of the globe.
If you want to hire remote app developers with a unique problem-solving approach, you cannot find a better option than looking towards Indian developers. Thousands of unique apps representing all imaginable use cases showcase this unique development potential of developers in India.
Favorable Stats for Indian Developers
Now that we have explained almost all the reasons to hire remote software developers from India, it is time to substantiate our elucidation with some facts and numbers. Here below, we provide some stats to prove that Indian developers have an edge in outsourcing projects.
● India produces more than a million engineering graduates every year.
● There were more than 4.5 million people engaged in the Indian IT sector as of 2020.
● India is going to have the highest number of software developers in the world by 2023/2024. The country can even take over the US in terms of the number of developers.
Key Qualities and Skills to Look for When Hiring Remote Developers
Now that we have explained the key advantages of hiring remote developers from India, we should explain how to onboard the best remote developers. So here we are going to explain the key qualities and skills for hiring developers in your outsourcing project.
Look for the Particular Programming skills
This is the first and foremost consideration when hiring offshore remote developer teams in India. The job posting should particularly mention the programming skills and commands over development tasks the project needs.
First of all, decide whether you need a front-end developer, back-end developer, or full-stack developer. Second, are you looking for developers having expertise in specific programming languages like PHP, Python or Java? Third, in which capacity of IT project do you need them to work on? For example, do you need them to work as part of your development team, QA, or support team?
When all these requirements are clearly defined and presented with clear outlines, comparing resumes and hiring candidates becomes much easier. It would be best to make sure that the candidates' skills and experience perfectly match the job role they are being hired for. This is why it is extremely important to go through their portfolio and cross-check their credentials while hiring offshore developers.
Focus on evaluating the coding skills of the developers and always pay attention to details. Instead of getting into a hurry after forming an impression, take time and check the portfolio with senior developers in your team. Try to reach a clear assessment of all the strengths and weaknesses of the candidates.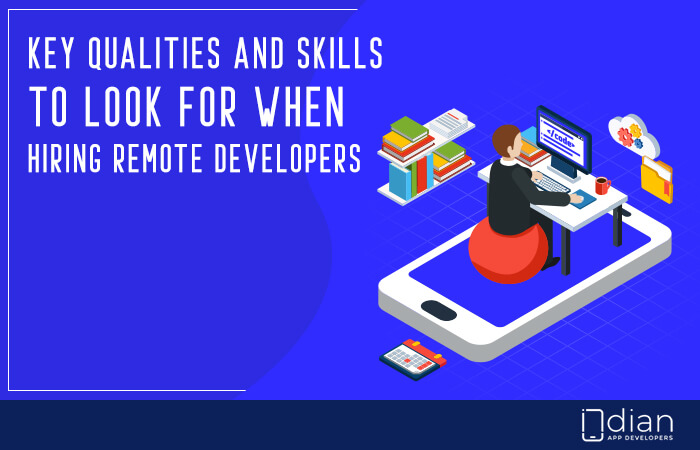 Experience in Remote IT Development Projects
Another major consideration to hiring remote developers from India is whether the candidate has sufficient experience in remote development projects. Since remote collaboration in an app project demands some personality attributes, practices and skills to work with remote collaboration tools such as Trello, Basecamp, etc., this is a crucial evaluation point.
Though you can always start with a highly talented developer with no prior experience in remote development projects, it all depends on the candidate's learning ability, aptitude, and flexibility to fit in the new development environment. Therefore, it would be better to take a practical test on remote collaboration by giving a small development task and checking how the candidate fits in.
Check the Communication Skills
When you consider remote developers for hire, checking the candidates' communication skills is of utmost importance. In a remote development project, having sound communication skills is equally important. Any candidate capable of expressing their credentials in the most well-articulated manner is likely to have better communication skills. This is a must-have quality for all developers hired remotely.
Apart from the written communication skills, the candidates must possess good verbal communication skills. Without smooth verbal communication, team collaboration and communication can be hampered, and conveying important details can be difficult. Consider how attentive they can be as a listener and how fast they can grasp a problem and communicate solutions.
Timeliness, Discipline and Work Ethics
Some remote developers may prefer to write code at night, while some may just adhere to regular project timing and schedule. If their schedule fails to fit in the desired work process of your company, the differences can make a negative impact on the output of the project.
Particularly for hiring remote developers from India, this is crucial as the country is culturally diverse with differences in working habits. Therefore, in the interview process, you need to unveil the individual habits, work preferences and tendencies to get a more comprehensive idea of each developer fits in.
Apart from knowing their routines, schedules and work habits, always evaluate how adaptive they are to changes in schedules and work processes, how they can adjust to new routines and time schedules as per the team demands.
Personality Attributes and Interpersonal Skills
When hiring offshore remote developer teams in India, you must evaluate the developers' personality attributes and Interpersonal skills for your new software project. These are key considerations that make or break the capacity of the team in a development project.
To begin with, you need to share a lot about the company environment and the preferences of the developer through the interview process to evaluate the things that are common with the candidates. At this stage, you need to have a deeper knowledge about their personality as if you are meeting a new friend.
You can also extend this personality assessment to a more professional level simply by reaching out to them with a detailed questionnaire in advance. All the questions seek responses that showcase individual values, personal worldview, different personality traits, etc. These answers will help you how a candidate's personality fits into your development team.
The Process to Follow for Hiring Remote Developers in India
Whenever a company wants to hire remote software developers in India, they should have a comprehensive idea about the entire process. So, let's consider some steps that make your hiring process full proof for a remote app project.
Draft Your Requirements
The first and foremost thing to do is to draft all your particular requirements for the project. This can be done by creating a meticulous job description and by specifying all the payment details.
What kind of skills and development expertise are you looking for in the project you have to specify? This will depict the qualifications, project experience, and particular developers you will hire for the software project. Whatever skills you need in a remote developer, you need to mention them.
At the next step for hiring offshore remote developer teams, you need to specify the payment frequency. Whether you will make payment hourly or daily or weekly or monthly, you need to specify. Here you also need to specify the suitable mode of payment. Make sure you maintain optimum transparency for engaging employees, whether on a full-time or part-time basis.
Getting the Right Candidates Onboard
Once you have decided on all the open job positions that require hiring, it's time to find the right developer candidates. There are multitudes of online platforms available for this, such as Remotely, Upwork and many others.
There are also online platforms like Flex. Jobs and We Work to post developer jobs and reach out to remote developers. Apart from that, some platforms that constantly evaluate development companies such as GoodFirms, Clutch and a few others can be great options to know about the top outsourcing companies in your niche.
For hiring remote developers from India, some social media platforms also offer great choices. LinkedIn comes as a high-quality social channel for which you need to use a recruiter account for posting jobs. Successful recruitment through LinkedIn demands a consistent presence in the platform and publishing expert content from time to time.
Offshore staffing companies can also take the load of finding the right developer candidate for your IT company. Any business without much exposure to remote hiring and the corresponding technicalities can find this helpful. The offshore recruitment and staffing companies have a ready database and access to many credible developer profiles for different types of projects which can be hired on a full-time or part-time basis.
Screening the Right Candidate
When you hire a dedicated software development team, India offers the most extensive choices with different skills, experience levels and cost attributes. This is why screening the right candidate with a balanced approach to all considerations is so important.
For the right selection of candidates, you can select candidates based on their resumes or profiles. Following this, you can choose some handpicked resumes based on technical experience, specific programming skills, remote work experience, work schedule and timings, personality attributes, etc.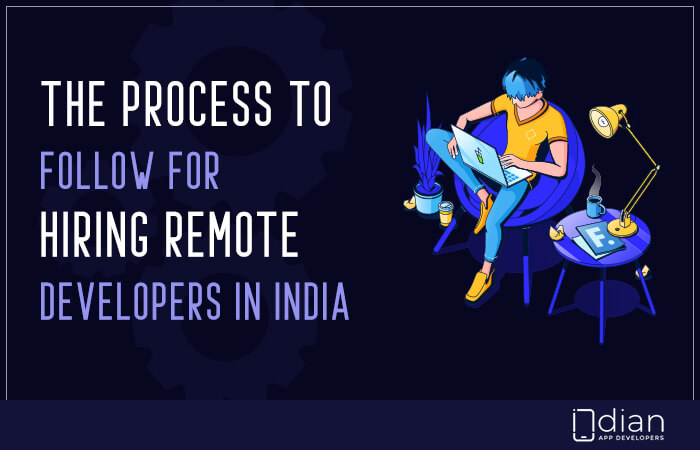 Carrying Out a Remote Interview
When you have picked up a selection of candidates who are likely to fit the job profile, the company needs to contact them. Now you have to interview each candidate and get a comprehensive understanding of their portfolio. On top of that, you can also see whether the respective candidate adheres to your project expectations.
Apart from briefing the candidate about all the job responsibilities and tasks, you need to know about the career vision of the candidate. Therefore, it is advisable to present a detailed questionnaire to candidates to get precise answers for the evaluation process.
Carrying Out Technical Skill Test
After the initial screening of the candidate is done, you can test their coding skills through a test. For the test, give responsibility to the technical team head and some key members aware of the specific skill requirements for the job position. There are also some great online coding test platforms like HackerRank to do this for you.
The same test can be extended adequately to evaluate the different skills and aptitude levels of the candidate. Through the test, you can help evaluate the knowledge and problem-solving abilities of the candidates, Time management and productivity skills and attitude to sudden changes and challenges in projects.
HR Interview
Once you have evaluated the candidate's technical skills and expertise level, it is time to carry out an HR interview that gives a detailed exposure to the work ethics, integrity level, deduction, and motivation of the candidate. In this interview, the interviewer needs to set clear expectations for the candidate to fulfil.
Some of the most important aspects that this interview should consider include specific working hours, job deliverables, remuneration, the needful resources, mode of communication, long-term career journey, etc.
Employee Onboarding
Once you have selected, screened and taken the final call on choosing the right candidate, it is time to get them on board. The purpose of this process is to make employees familiar with the respective job environment. In addition, the onboarding process must ensure that remote employees can get along well with the company's work culture and deliver the best output.
For a smooth employee onboarding process, a company needs to provide a brief training for orienting with the job responsibilities, software and hardware support, company tools for remote collaboration, data management and password management tools, etc.
Why Choose IndianAppDevelopers as Your Remote Software Development Team?
IndianAppDevelopers, a software and mobile app development company headquartered in India and offices in the USA, boasts a successful track record of offshore development projects for both leading business brands and emerging startups from all over the globe. When you need to hire remote software developers from India with a varied skillset and project experience, the company comes as one of the few top options.
When you need to hire a dedicated software development team, IndianAppDevelopers offers you the most extensive choice of developers with all front-end, back-end and full-stack development skills along with exposure to all trending and advanced technologies ranging from Blockchain, Artificial Intelligence (AI), Machine Learning (ML), deep learning, multi-cloud programming, AR/VR development and all latest facets of technology.
Consider outsourcing to companies like IndianAppDevelopers to hire Remote developers in India for your big project to ease the development process.
IndianAppDevelopers can allocate a team of highly-qualified software engineering teams to see your project from start to finish, whether you are a startup or a business.
Conclusion
India has already established itself as the world's most sought-after IT outsourcing destination for a host of reasons that we mentioned already. In the years to come, with the tech-educated Indian youth penetrating the IT field in more numbers, Indian development companies will experience more demands for their development skills and output than ever before.